Boat and Pontoon Rentals on Great Pond, Belgrade Lakes Maine
Great Pond Marina is Belgrade Lakes' most reliable boat rental service. Our rental fleet and customer service have been positively recognized for decades in Maine for lakeside convenience and the overall quality of our watercrafts. Choose between a vast selection of fishing boats, ski boats, pontoons, and runabouts to rent on Great Pond. Each of our boat & pontoon rentals are in great condition; fitted with all required safety equipment, plus a full tank of gas. Browse our Reserve Selection menu below.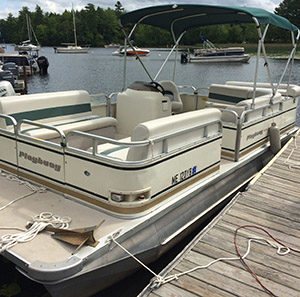 Prices are subject to change. Boats can be rented for any number of days.
** Experienced boaters only
* Must have basic boating experience
Must be 25 years old, and hold a valid Drivers License to lease a boat.  See ski boat requirements below:
*SKI BOAT RENTAL REQUIREMENTS
Operators must be at least 25 years old
Operators must watch safety video
Operators must be experienced boater as determined by Marina
Minimum rental is 3-days
Skiboats are rented on Great Pond only