Great Pond Marina Store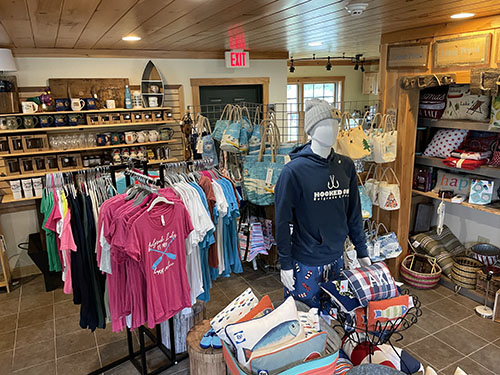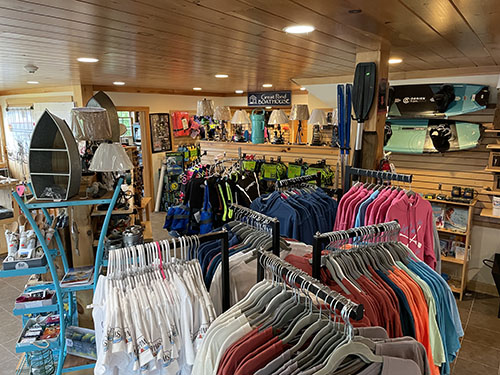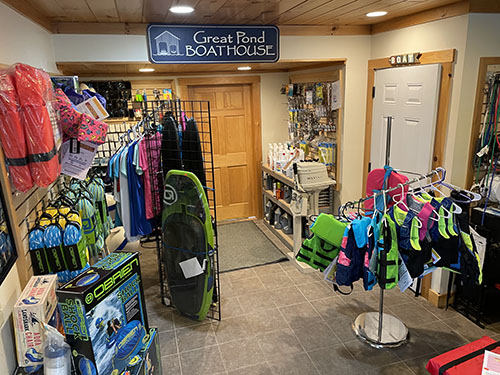 The Marina Store has all that a boater might need. We stock all required Safety Equipment, plus a full line of mooring supplies and hardware. We carry a large variety of O'Brien Watersports products including the latest paddle boards, wakeboards, kneeboards, and water skis. As of recently, we've expanded our wakesurf inventory as this sport continues to grow in popularity. We also supply genuine neoprene ski jackets and foam jackets for the serious and recreational water skiers/wakeboarders. If you're seeking O'Brien hardware while visiting the town of Belgrade, check out our supply of parts and accessories that we have available in-store.
The Marina currently carries a variety of sunglasses in several different shades & sizes, as well as some hand crafted items like light fixtures and jewelry. We supply a large selection of Great Pond Marina memorabilia in-store including T-shirts in all sizes and great fitting hats. If you e-mail us we can ship these directly to you.
Great Pond Marina also has fuel docks available on the waters of Great Pond, which are accessible by any sized boat. Our gas is marine grade, Valvtect fuel that is pretreated with stabilizer. Other services include installations of mooring buoys, mooring chains, and customizable pulley mooring systems for your boat. This is a great alternative to an expensive boat lift. Come in and discuss the possibilities with our crew.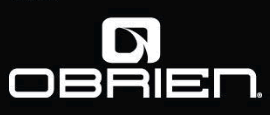 O'Brien Watersports
O'Brien Paddleboards
We offer the latest selection of O'Brien Paddle Board's in-store. SUP's including…
Inflatables: Inflates in less than 3 minutes; for paddle boarders on-the-go
Aerobic: We offer well balanced, light weight "ABS Hard-Shell" paddle boards

O'Brien Wakesurf Boards
We currently sell O'Brien Space Dust, and Royale Wakesurf boards
Space Dust: A versatile short style board with a flat bottom for tricks
Royale: A longer board style for cutting into the wake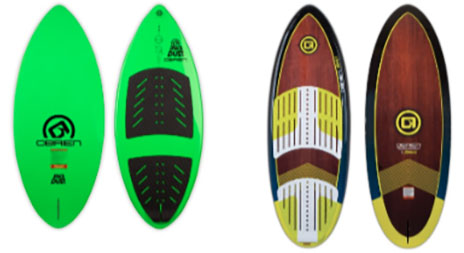 O'Brien Tubes:
Our O'Brien tube inventory is constantly stocked with 2, 3, 4, and 5 person tubes
The following are samples of our towable tube inventory
*We have an even greater selection in-store

More from O'Brien:
Here is a list of other watersports products we have in stock…
O'Brien Wakeboards
O'Brien Water skis
O'Brien Air Pumps
O'Brien Parts
Tow Ropes
Ski Gloves
*For more details and specifications on all products, refer to one of our in-store experts*

By Mercury Marine
Fuel Care
We Supply fuel additives for mid-season usage and winterization
Quickare: Fuel Treatment
Quickleen: Engine & Fuel Cleaner
Quickstore: Fuel Stabilizer
Precision Lubricants
We carry several different lubricants for most outboard engines
2-Stroke Outboard Oil
4-Stroke Outboard Oil
Lower Unit Grease
Great Pond Fuel Dock - Belgrade Lakes Maine
We are a Certified ValvTect Marina

At Great Pond Marina we realize your boat is one of your most important investments. That is why we have become a Certified ValvTect Marina.
As you may know your boat's marine engine must work harder and is under a much heavier load than an automobile or truck engines. Good performance, low maintenance costs and long engine life are critical to your boating enjoyment and help to reduce the cost of operating your boat.
This is why we provide ValvTect marine Gasoline at our gas dock. Unlike the automotive brands of gasoline offered at gas stations, ValvTect Marine Fuels are specially formulated for your heavy-duty marine engine and difficult marine operating conditions.
ValvTect Marine Gasoline is specially formulated to help:
Prevent problems caused by ethanol blended gasoline such as phase separation
Keep fuel stabilized and fresh for up to a year or more
Improve Octane performance
Increase engine power and acceleration
Prevent premature wear and extend top engine life
Reduce fuel consumption
The use of ValvTect marine Fuels will help you get peak performance, lower operating costs and longer engine life from your marine engine. No other fuel additives are recommended. Additionally the use of ValvTect Marine Fuels will help reduce harmful exhaust emissions thus helping to improve water and air quality.
For more information about ValvTect Marine Fuels please feel free to visit the ValvTect web site at: http://www.valvtect.com/marineFuelGasoline.asp
Fuel Dock Information:
90 Octane Ethanol Free Gasoline, based on availability.
Gas Attendants on duty for pumping, customer required to open gas fill caps & reinstall after filling.
Hours of operation in July & August; seven days a week from 10:00 AM to 3:00 PM, including July 4th.
Major Credit Cards accepted; Visa, MasterCard & Discover.
Footwear required on fuel dock.
2-cycle oil is available per request.
All boat occupants must exit the watercraft during the fueling process.
Great Pond Marina Store located on Great Pond in Belgrade Lakes Maine